Emanation of Lord Shankra in 'Dvapara Yuga':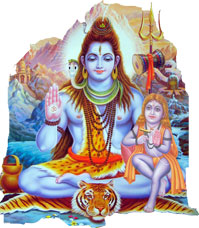 According to 'Lok Srutis' Baba Ji reincarnates Yuga and Yuga. He was known as 'Skanda' in 'Sat Yuga', 'Kaul' in 'Treta Yuga' and 'Mahakaul' and 'Dvapra Yuga'. 'Mahakaul' of 'Dvapra Yuga', while going to 'Kailasha Parvata', met an old woman on the way.

The old lady asked the mission and destination of Baba Ji. After knowing all that the old woman advised 'Mahakaul' to meditate on the bank of 'Mansarovar' and request 'Mother Parvati' (who would come there for bathing on special occasions), help him in reaching 'Lord Shiva'. 'Mahakaul' acted as told and became successful in his mission of reaching 'Lord Shiva'On seeing 'Balayogi Mahakaul', 'Lord Shiva' became very happy and blessed Baba Ji to be the 'Sidha symbol' of worshipping for devotees in 'Kaliyuga' and his child like image to remain for ever.

Birth and Sanskritisation of Baba ji in Kali Yuga:
Baba Ji is said to have taken birth in Gujarat, Kathiabad. The name of His mother was Laxmi and that of his father Vishno Vaish. Here Baba Ji named as 'Dev' became lost in 'Bhagvad devotion'. Seeing this, his parents wanted to marry him; but Baba Ji didn't agree and left His home in search of 'Parma Sidhi' and came by 'Swami Dattaitreya' in Junagarh on Girnar hill - a historical place.

It is here Baba ji learnt the basics of 'Sidhas' from Swami Dattaitreya and became 'Sidha' and came to be known as 'Baba Balak Nath Ji'


| | | |
| --- | --- | --- |
| | Read Baba Ji Amar Katha to Understand Baba Balak Nath ji Kalyug Katha | |

Did You Know ::
Baba Ji came to Shaha Talai and meet 'Ratno Mai' - the epitome of 'Dwapra's old woman', who had guided 'Mahakaul Baba Ji'. Thus Baba Ji was to compensate for what the old woman had done for Him in 'Dvapra Yuga'.